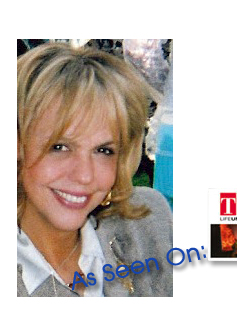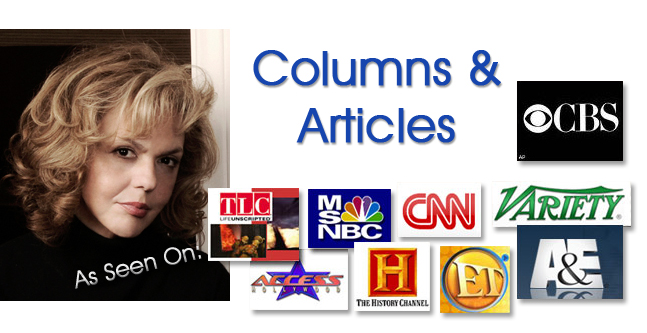 You will need to have Adobe Acrobat Reader installed to view the UFO articles. Download it from here.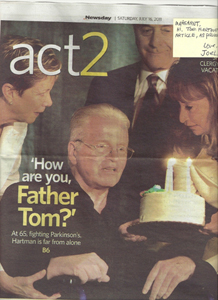 The priest that introduced Margaret to the medium George Anderson against the wishes of the Catholic church
(click to make larger)
Articles by Margaret Wendt
Psychics, Mediums, and Rock N Roll
Drugs, Death, and Rock 'n' Roll have always had a close relationship.
Musicologists Call It Death Rock
Most performers have an eerie interest and acceptance of the supernatural & psychic phenomena. They live it.
Hendrix's sang "I Don't Live Today"
For twenty years, singers and songwriters have confided to, Rock 'n' Roll reporter, best selling author, and expert in the paranormal, Joel Martin that they've have a mystical connection with their music. They felt that their inspiration and writing came to them from "a something or someone".
The late Janis Joplin experienced premonitions of her own death.
"Lordy, Lordy, I won't live to 40. I can't sing this shit away".
Janis was preoccupied with death. It haunted her. She had several near death experiences, a vision of a dead friend, and experienced premonitions and dreams of her own death, which occurred in 1970, the result of an overdose. She said to friends that she did not expect to live long. Perhaps a premonition coupled with self-destruction?
She was friendly with the great guitarist Jimi Hendrix, who overdosed that same year. It is believed by some that they suffered from the same curse…knowledge of their premature death.
The Grim Reaper Lives In Music Today.
The preoccupation with death is evident among many popular singers and songwriters on the charts today.
Gangster Rap is anger spitting out tunes with a gun. They know their death is coming any minute…so why go straight? They have their own mystic in the hood.
The dark side of rock stars explores their curiosity with death and the other side through their music. Was there a psychic or supernatural sense that motivated songs about death, or simply artistic expressions with artists like Jim Croachie, Jimi Hendrix, and Lynyrd Skynyrd?
Premonitions Of Their Own Deaths.
Singers and songwriters who died tragically & young often thought about and talked of death with friends.
Stories Of Interest
What kind of purple haze was Hendrix really in?
Hendrix spoke often of sensing a hand over his own when he played guitar. "I have no fuckin' idea what I'm gonna play until I put my hand on the guitar…I put my hand right here and it's like an electric shock".
Was it the hand of a spirit? Or was it Hendrix in a haze of drugs?
His answer…"something or someone else guides my hand to greatness man"
Break On Through To The Other Side…
Famous for his music and his death, Rock 'n' Roll star, Jim Morrison experienced premonitions and sensations of an early demise. He said that he would never see 30. Morrison was in his twenties when he died of a heart attack.
Consider Morrison's song "Break On Through To The Other Side" the lyrics "five to one, one to five, no one here gets out alive."
Some suggest that "Break On Through" by Morrison dealt with an LSD trip only. There is room to debate. The double meaning of the title, "The Other Side" can be a drug induced alternate dealing with another state of consciousness or afterlife.
Cheated By Death
In the 1970's singer songwriter, Harry Chapin had a string of hits, "Taxi", being one of the biggest. Although Chapin did not speak publicly about psychic phenomena, he was a big believer. Harry had many questions about the afterlife, and asked to speak privately with Joel Martin. According to Martin, "Chapin seemed to be in a hurry"
The two men never spoke. Two days later, Chapin was killed in a car crash.
Several years later, a longtime personal friend of Chapin and former priest attended a session with nationally known psychic medium George Anderson. He was an anonymous subject. "The reading was unbelievable."
During the reading both Joel Martin and CBS TV Reporter and Producer, Margaret Wendt witnessed George talking to the spirit of Harry Chapin as it materialized near the priest.
At first, Anderson could not make the connection. He was not familiar with Chapin's music. Chapin's spirit had to communicate the lyrics of his hit song "Taxi" and then told Anderson that the priest had been one of his closest friends. The priest is absolutely sure he communicated with his friend the late great Harry Chapin.
"IMAGINE"
On another occasion, George Anderson was introduced to a businessman from London. The man was well dressed in a three piece suit and appeared to be quite conservative. Since he was an acquaintance of Joel Martin's, Anderson agreed to provide the skeptical stranger with a psychic reading.
Within moments Anderson contradicted the subject's appearance and London accent. "First of all, you're not from London, and you don't normally dress this way. You're trying to fool me, I don't like that."
Anderson said he psychically saw a spirit of a man behind the stranger. The spirit, had longish hair, wore wire rimmed glasses and was holding a guitar. The subject, although very skeptical, acknowledged he knew someone who looked like that.
Then Anderson said, "The spirit is telling me psychically, I'm your mate John Lennon." Anderson was stunned. Was this possible?
The stranger was skeptical. He thought Anderson must have had advance information. Anderson continued, "The spirit of John Lennon is saying, "Remember the ice cubes, I poured down your shirt."
The stranger paled, and acknowledged that he understood.
Shaken, the subject's skepticism melted. Lennon's spirit had communicated to a childhood incident known only to Lennon and his friend, Joe Flannery, a British music executive. The two had often pulled pranks on each other, including the ice cube joke.
Finally, Anderson told Flannery that Lennon was with his brother on the other side. Anderson could not have known that Flannery's brother was struck and killed by a bus as a child.
Joel Martin was told in confidence by a close friend of Lennon's and Paul McCartney's family that John was a believer in psychic phenomena.
The Art Of Dying
George Harrison told Joel Martin that he was also open to spiritual and mystical subjects.
Yoko Ono
Interviewed by Joel Martin, Yoko admitted employing Michael Green a psychic/tarot to connect with John Lennon.
The Piano Man
Joel Martin introduced Billy Joel to the Psychic-Medium, George Anderson. Billy put his hand to his face, joking that he didn't want to hear anything psychic…it might be embarrassing.
Billy was right. Later, Anderson told Martin that Billy Joel was having drug addiction problems and was secretly planning to have a love affair with a beautiful blonde. Several months later Billy sought treatment for cocaine addiction and he became romantically involved with pretty, blonde model, Christie Brinkley.
Synchronicity
In the 1980's Sting wrote and recorded the hit song "Synchronicity".
Synchronicity, unrelated events coming together, is an important paranormal concept. Did Sting research the concept of synchronicity before writing the song?
The King
Elvis Presley was a devoted student and strong believer in the paranormal and supernatural. Several books have been written about Presley's psychic interests.
She Heard A Symphony
The Supreme's Mary Wilson lost her young son in an automobile accident. Mary was consoled by a medium.
Motown
The Temptations' Otis Williams, sensed the death of someone close to him.
Deadheads
Jerry Garcia, has been contacted by mediums countless number of times.
Joel Martin speaks out.
Tip Toe Through The Tulips…
Tiny Tim was a personal friends and frequent guest on Joel's Rock 'n' Roll Radio Show. He was an avid student of the paranormal.
When he left New York, he remarried and moved to the Midwest.
One night I had a vivid dream in which Tiny Tim appeared to me and said telepathically "Goodbye Mr. Martin. I'm going north, far up north." He laughed in the vision. I thought he was referring to his move out of state. Several days after the dream, he died of a heart attack. He'd come to me to say goodbye.
Joel Martin had the only talk show on a Rock 'n' Roll radio station in the country. The show ran from 1972 – 1984. He has appeared on every network and major cable channels in the country. In all, he has interviewed thousands of guests on radio & television.
He hosted many programs with and about psychics and mediums, and often there was an overlap between the two subjects: Rock 'n' Roll with Psychics and Mediums.
Tell All Confessions
"Often, rock performers will share their psychic experiences with me. One "oldies" rocker invited me to his home because it was haunted and he wanted it investigated."
A television special about psychics, mediums, and Rock 'n' Roll where rockers share their psychic experiences is on it's way. Psychics and mediums will read rockers and communicate messages from departed super stars: George Harrison, Elvis Presley, Jerry Garcia, Jim Morrison, Keith Moon, Roy Orbison, John Lennon, Johnny Cash, Frank Zappa, Buddy Holly, Janis Joplin, Jimi Hendrix and Mama Cass Elliott – who died in the same London flat as Keith Moon. We can choose any or all. The list just goes on and on. The mediums are selected on their credibility, skill and integrity. The mediums, psychics, rockers, & audience all share one thing in common…"WE ARE ALL GOING TO DIE." We Boomers are the oldest group of Americans.
ATTENTION!
It has been brought to our attention that Margaret is being portrayed as a psychic on $1.99 sites. These sites are doing so without Margaret's permission. Margaret has not claimed she is a psychic. - MW