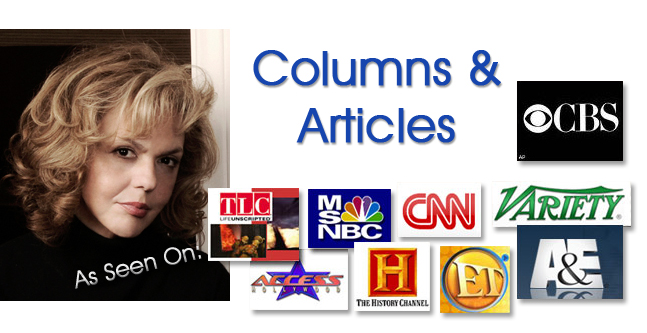 You will need to have Adobe Acrobat Reader installed to view the article. Download it from here.
Original article can be found here.
MargaretWendt.com was voted number 7 out of the top 10 websites on the internet by a reporter from a newspaper in Georgetown, Washington D.C.
ALL THINGS MEDI
A
T
OP
10 I
NTRIGUING
W
EBSITE
S
By Claire Sanders Swift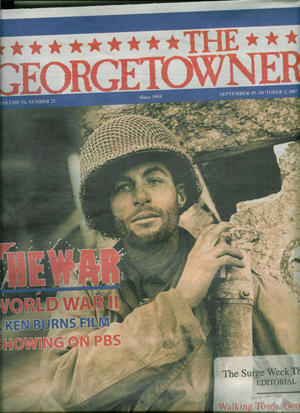 Long gone are the days I can find the time to endlessly "surf" the net, like my days living in New York working for a broad
cast network. I am a married, baby boomer (tail end) with a young child at home and myspace.com and facebook.com just don't make it to the top of my favorites. Time is of the essence and quality and substance matter.
Here are a few websites unique enough to take a look at when you have a moment. You might even get hooked on one or two of them. By the way, according to Boutell.com there are more than 108 million distinct web sites currently on the worldwide web. The following list of favorites were gathered through my travels in the media world, my family and friends and, my clients and colleagues. I had to start somewhere.
10. www.tvnewser.com – If you want to know the inside on what's happening in the TVNews world without watching TV, go to this blog for TV insiders and you can become one
– well sort of. You can see the ratings for yourself instead of reading about them. Journalists talk about their special lunches with President Bush before his speech, "presidents who worry about the polls are lousy presidents." Producers promote their shows and insiders dish about what TV personality is in or out next? There are even job listings.
9. www.starfall.com– Here's an animated place where your young kids can learn to read and write interactively. I met the founder, Stephen Schutz on a foreign trip this spring and was quite impressed. He told me he was a late starter in the reading arena which inspired him to devise a way to help kids get excited about reading by giving them a creative interactive forum. Even then he was looking for subject matter that is exciting.
8. www.freedomblog.com– I am partial about this website, recently unveiled as "defining freedom beyond war" because I helped develop it. It uses the scientific models and curves developed by Dr. Robert R. Carkhuff (Bob) and his associates to show progress and possibilities in the 21st Century. Sound heavy? Well, it is. This site is required reading for the smart -business minded entrepreneur. Bob paved the way for human resources and the helping profession in the 70's. "If we don't use our brainpower to generate and build then we are lost as a nation," says Bob Carkuff.
7. www.margaretwendt.com– If you are looking for a spiritual guide to take you to the other side with ease and credibility, go to this website. Sound crazy? Kind of but not really. Margaret Wendt is a pioneer in the paranormal and journalism and combines the two quite nicely. Her radio show, "The Spiritual Truth", is the most original on the web. Wendt produced the Beyond Death documentary series which got critical acclaim and record ratings for A & E in the 90's. Now she and her co-host Joel Martin (best-selling author of We Don't Die and more) bring a range of programming in paranormal world and refreshingly make it all make sense. Her latest documentary, the "The Presidents and the Paranormal" aired on the History Channel.
6. www.kayak.com– Looking to go somewhere directly with an airline and don't want to go through one of those travel websites for a middle seat and the impossibility of getting
your money back or changing your ticket? Kay-ak.com gathers all the flight information of all flights on most airlines and takes you directly to the airlines websites for yourself so you can book it yourself. No middle men. Worth a try at least.
5. www.nationalgeographic.com– My husband encouraged me to check out this website. He works for National Geographic so he's partial but I was pleasantly surprised. You might remember that National Geographic Society has associated itself with quality around the globe since its inception. Then came Discovery, Animal Planet and it's hard to keep track. Clearly National Geographic hasn't lost their edge and their specialty – "inspiring people to care about the planet." This website offers an array of items, on the front mast, Zeb Hogan holds a Chinese Sturgeon fish. There is direct access to the "Green Guide". And National Geographic kids section is the best out there.
4. www.babycenter.com– This website saved my life when I was pregnant and postpartum. It draws a special map of your child's fetal development week by week and sends it to you. Every week carefully gathered facts about your child's development come to you like it or not with pictures. Do you need breastfeeding help – it's there or help choosing food for toddlers. They draw from prominent medical experts and make it all make sense for moms at home too busy to do the original research.
3. www.newyorktimes.com– You have to hand it to the New York Times, they make reading their news stories like eating a fine meal. They fill you up and don't usually leave you wanting more. Their writers are indisputably better than the rest. In my media days in New York, I read the NYT every day. I now subscribe to their website. Every day I get a news bulletin with a summary of stories for the day---which is close to the real thing. They have video on their website as well and a style that makes you feel like you are almost there amidst the pages of the paper itself.
2. www.pandora.com–This website is incredibly special and draws on the experts from the Music Genome project to help you tailor your own radio station that plays only your kind of music. Does this sound too good to be true? At Pandora.com they have a single mission: "To play the music you'll love and nothing else." And their experts spent hours and hours a day analyzing distinct musical characteristics and linking them. You simply punch in your favorite song and it links to others like it – easy listening.
1. www.youtube.com– Watching a bunch of "yous" on the tube can be interesting and fun and it sure is original. Most of the world has heard of YOUTUBE now since the billion dollar acquisition by Google. For any of you who haven't been, try it out – and I mean try it out. You can upload video easily and have an audience of your own. It's just that simple. There are millions of videos but it's a great place to post a piece of video you have been dying to show to people and somehow you just haven't been able to get it to American idol or is it idle?
If you have any comments or intriguing websites to suggest, please contact claire@georgetowner.com.
CALENDAR OF EVENT
S
Wednesday, September 19
Touring Tudor Place
It's been 183 years since Tudor Place-home of Martha Washington's granddaughter and a hidden historical gem-hosted a banquet for a French Marquis. On Sept. 19 that dry spell will be broken with a trip back in time. Using much of the same furniture, china, and period recipes, Tudor Place will recreate an important 1824 banquet for the Marquis de La Fayette and explore the country's lasting reverence for this Revolutionary War hero. Guided tours of the exhibition will feature rare objects, manuscripts and books, as well as period costumes. Items on exhibition will be from the museum's collection, the Daughters of the America Revolution the Society of the Cincinnati and private collections. This is the first time many of these items have been displayed together. For more information or to sign up for the events associated with the exhibit, please visit their website: www.tudorplace.org or call 202-965-0400.
Thursdays, September 20, 27, 6:00 – 6:30pm
Face to Face Portrait Talks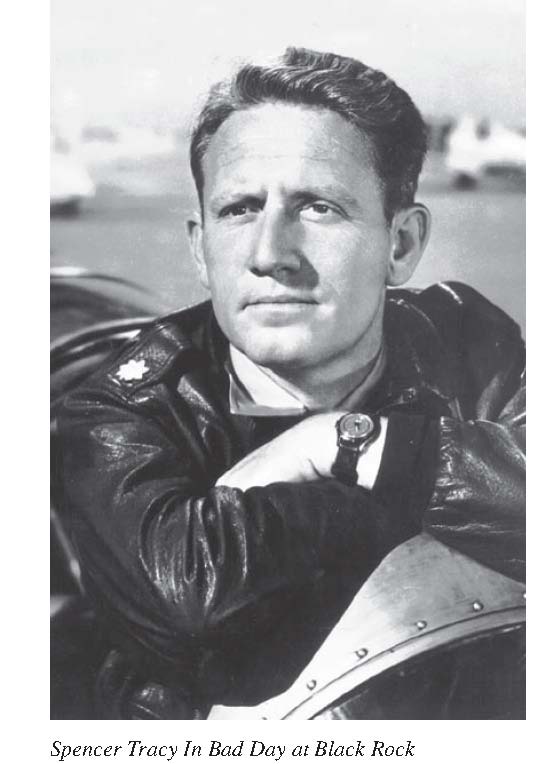 Join a curator, historian, or special guest speaker to learn more about the people and their portraits hanging in the National Portrait Gallery. Each Thursday a different portrait is highlighted. Meet in the F Street lobby.September 20: Historian David Ward will speak about the portrait of Ernest Hemingway by Man Ray.September 27: Senior historian Sid Hart will speak about the portrait of George Washington by Rembrandt Peale.National Portrait Gallery, 8th and F Street, NWMetro: Gallery Pl-Chinatown, 9th and G or Arena exit
Saturday, September 22, Noon
Presidential Film Favorite
Bad Day at Black Rock
A favorite film of President John F. Kennedy, Bad Day at Black Rock tells the story of a town with a shameful secret and a one-armed stranger who disrupts the citizens by exposing it. Stars Spencer Tracy. (1955, 81 minutes.) National Archives and Records Administration, 700 Constitution Ave. NW. There is no charge. Enter through the Constitution Avenue Special Events entrance for all programs.
September 27-February 10
Legacy: Spain and the United States in the
Age of Independence, 1763–1848
Through portraits and compelling authentic documents, this exhibition explores Spain's key role in the Revolutionary War and the founding of the United States. The exhibition begins in 1763, when the Treaty of Paris was signed, and continues through 1848, when the Treaty of Guadalupe Hidalgo ended the Mexican American War. The political and geographic changes that happened during the 85-year period covered by this exhibition still reverberate in American culture today. Individuals represented include King Carlos III by Anton Raphael Mengs, the Count of Floridablanca by Folch de Cardona, Francisco de Cabarrús by Francisco de Goya (one of five portraits painted by Goya in the show), George Washington by Charles Willson Peale, Benjamin Franklin by Joseph Siffred Duplessis and even Davy Crockett by Chester Harding. National Portrait Gallery, 8th and F Street, NW.
Saturday, September 29, Noon – 4:00pmLegacy Family Day
In celebration of the opening of the exhibition, Legacy: Spain and the United States in the Age of Independence, 1763–1848, the Youth and Family Program division presents a full day of activities. A tour in Spanish, hands-on arts activities, and a musical performance are all part of the fun on this day. This educational program has been funded by the Smithsonian Latino Fund. Call 202-633-8501 for more information. Recommended for children ages 5–12 accompanied by an adult.National Portrait Gallery8th and F Street, NWMetro: Gallery Pl-Chinatown, 9th and G or Arena exit
Wednesday, September 26, Noon
Lecture: Playing America's Game: Baseball,
Latinos, and the Color Line
Latinos had emerged as baseball's largest minority group over the last two decades. This highlighted by the pitching of Pedro Martinez and Johan Santana and the hitting exploits of Alex Rodriguez and Albert Pujols. Join professor Adrian Burgos as he discusses his book, "Playing America's Game: Baseball, Latinos, and the Color Line", which examines the long history of Latinos in US professional baseball. National Archives and Records Administration, 700 Constitution Ave. NW. There is no charge. Enter through the Constitution Avenue Special Events entrance for all programs.
Thursday, September 27, 7:00pm
Film & Panel Discussion
50th Anniversary of Little Rock Nine
The National Archives presents a screening and discussion of Charles Guggenheim's 1964 Academy Award-winning film Nine From Little Rock. The film profiles the lives of the nine African-American students who integrated Little Rock Central High School during the fall of 1957. Nine From Little Rock documents the perspective of Jefferson Thomas and his fellow students seven years after their historic achievement. Academy Award-winning filmmaker Davis Guggenheim (An Inconvenient Truth), and producer Grace Guggenheim (Berga: Soldiers of Another War), will offer special opening remarks at the program. National Archives and Records Administration, 700 Constitution Ave. NW. There is no charge. Enter through the Constitution Avenue Special Events entrance for all programs.
ATTENTION!
It has been brought to our attention that Margaret is being portrayed as a psychic on $1.99 sites. These sites are doing so without Margaret's permission. Margaret has not claimed she is a psychic. - MW