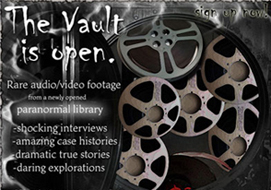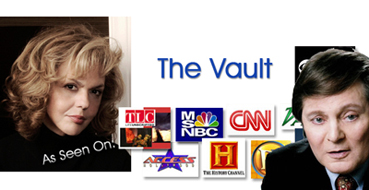 If you are having problems with the site please don't hesitate to contact us by clicking here.
Click here to go directly to the Vault Videos
From The Vault
We decided to give you a look at what's in our vault.
For the first time you get to see footage from amazing interviews.
Some of this information is too "provocative" or too "far out" for network television.
This is unedited raw footage!
There are stops and starts between every take, but every take is a new conversation.
See What Goes Into Making an Hour Show
As producers, directors and editors, we shot hundreds of half-hour source tapes, viewed all these tapes and picked only 43 minutes to produce a 1-hour show for broadcast.
We shot enough footage to create an entire series just as entertaining as our original pilot.
Sometimes finding the perfect sound bite is difficult and it may be buried within several minutes of interesting entertaining information.
It's often difficult to choose what should be in the final program.
You be the editor.you be the judge.you decide what ends up on the cutting room floor.
Tapes from the vault are randomly chosen and include interviews and demonstrations with experts of the paranormal.
Best selling authors Jess Stearn and Elizabeth Kubler-Ross.
Healers like Douglas Johnson - Mayo Clinic.
Buz Meyers interviews Maria Moreno
Medium Suzane Northrop talks to dead relatives of criminals in a correctional facility.
Doctors from UCLA to China, much to their surprise, they agree on alternative medical practices.
Unbelievable events, documented footage of UFOs.
Shocking footage of Aliens living on earth and telling their stories.
A businessman who turned out to be a practitioner of the dark arts…it was a surprise to us, and a frightening experience for the whole crew!
See incredible footage that the networks did not want to air.
Keep an open mind and enjoy.
The vault will be back shortly.
ATTENTION!
It has been brought to our attention that Margaret is being portrayed as a psychic on $1.99 sites. These sites are doing so without Margaret's permission. Margaret has not claimed she is a psychic. - MW