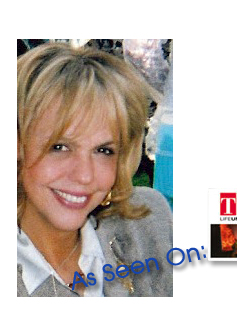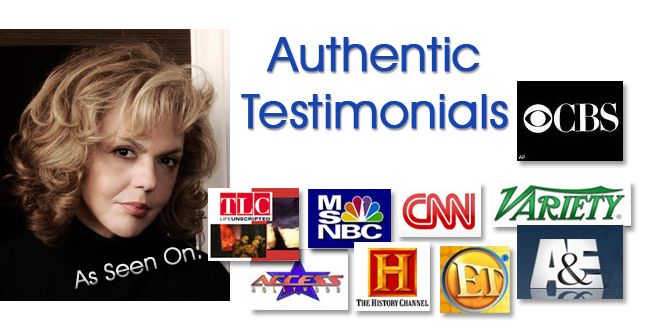 Margaret has long known the famed Israeli psychic Uri Geller, Susan Northrop and Maria Marino, a medium popular with Hollywood celebrities including Marilyn Monroe. She has studied with Ruth Montgomery and Jess Stearn among many other psychics. Her dedicated interest in the subject leads her to study and interview mediums, doctors, medical and psychological, both those well known and new to the field.
Always seeking to learn more about the supernatural, Margaret is among the few TV journalists to visit the Princeton University project (PEAR) where psychic research is on going. Recently, she reviewed the on-going testing at the Human Energy Systems Laboratory of the University of Arizona at Tucson where scientific experiments on psychic mediumship takes place.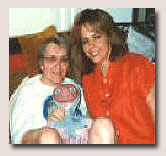 "Margaret Wendt has been accurately described as a woman of extraordinary knowledge and vision about psychic phenomena and can answer any question dealing with the vast, fascinating and sometimes controversial topic. There are few who can match her experience and command of the paranormal, and her commitment to a better understanding of the subject." -Dr. Elisabeth Kübler-Ross
Margaret is most proud of her rare interview with Dr. Elisabeth Kübler-Ross, pioneer on death and dying research and near-death experiences. Dr. Kubler-Ross led hundreds of workshops and spoke to standing-room-only crowds throughout the world. The "five psychological stages of dying" (denial, anger, bargaining, depression and finally acceptance) outlined in her book became accepted as common knowledge throughout the world. She continued to both learn and teach in many important medical facilities and hospitals as her influence grew.

"I am very impressed by your amazing knowledge of the psychic. You are a gift to us all. You have definitely been blessed with the sight of the other world. Our journalism backgrounds have given us credibility that few people have when approaching and entering into the world of Psychic Phenomena and Spirituality." -Ruth Montgomery

Ruth Montgomery: past president of the prestigious National Press Club, began her career as a Washington DC reporter. She wrote a book about the world-renowned psychic, Jeanne Dixon, called "A Gift of Prophecy." Jean Dixon was the psychic who warned President Kennedy not to go to Dallas on that fateful day. Her book on Jeanne Dixon was very successful and Ruth began looking further into the paranormal phenomenon. She soon discovered that she had the gift of "automatic writing" by which she could communicate with various deceased personalities.
Despite all the ridicule and criticism, she was able to channel a great deal of information from the other side, specifically from her deceased friend, the famous spiritualist and medium, Arthur Ford. Ford was the psychic who successfully revealed Houdini's secret code from the other side. There was controversy with this, but it was never proven that Ford received this message any other way. From beyond the grave, Montgomery received startling answers to questions about life after death, such as: What happens after death? Where do we go? What is it like over there? Ruth Montgomery documented these revelations in a series of books: A World Beyond, The World to Come, The World Before, A Search for the Truth, Born to Heal, Aliens Among Us, Here and Hereafter, Threshold to Tomorrow, Companions Along the Way, Herald of the New Age, and Strangers Among Us.



"You obviously have a vast knowledge of Parapsychology and Psychic subjects and I'm looking forward to working with you. I was impressed by your journalism background. I looked into it, and kid, they love you. You are Maria's last prediction. She said you were the "chosen one." I gotta tell you, now that I know you, I know she is right on the money. "A conversation with Margaret Wendt on the subject of Paranormal could fill a room, an auditorium, even a stadium." -Jess Stearn
Jess Stearn was a journalist, editor of Newsweek and a prize winning reporter at the New York Times, rather than an astrologer. He nonetheless played a role in widening public interest in astrology during the 1970s. Writing his best-selling book, Edgar Cayce: The Sleeping Prophet, spurred his interest in spirituality, and he wrote a number of best-sellers on metaphysical topics. A Time for Astrology was devoted to our field, and he also featured astrologer Marcia Moore in Yoga, Youth, and Reincarnation. In all, he wrote around 30 books on the occult.
His record shows the following birth information, which he gave to Lois Rodden in 1973 from his memory: he was born April 26, 1914, at 12:00 PM EST, in Syracuse, NY, 43N03; 76W09. According to the Malibu Times, He died of congestive heart failure at age 87 on March 27, 2002, at his home in Malibu, CA. Several obituaries quoted a speech he gave to Cayce's A.R.E. in 1990: "Death is just a comma in the book of life."
ATTENTION!
It has been brought to our attention that Margaret is being portrayed as a psychic on $1.99 sites. These sites are doing so without Margaret's permission. Margaret has not claimed she is a psychic. - MW