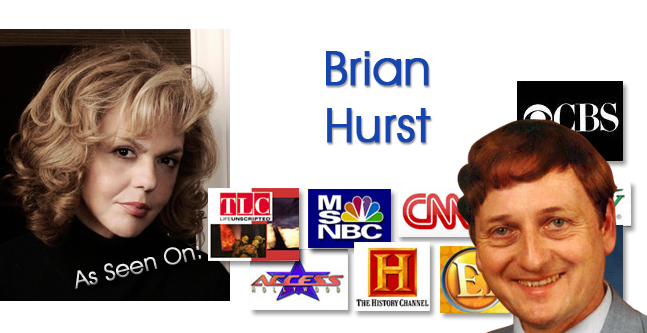 Photos of Brian Hurst
Click the titles below to read the articles.
The following articles are about Brian Hurst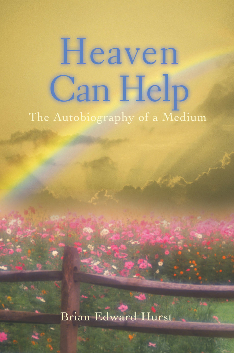 Heaven Can Help
The Autobiography of a Medium
Parapsychology & Autobiography / General
Trade Paperback
Publication Date: Aug-2007
Size: 6 x 9
Author: Brian Edward Hurst
ISBN: 0-595-45526-3 (paperback) $18.95 U.S.
ISBN: 0-595-69519-5 (hardcover)† $28.95 U.S.
240 Pages
On Demand Printing
Available from Ingram Book Group, Baker & Taylor, and from iUniverse, Inc.
To order call 1-800-AUTHORS
U.K. availability through Nielsen Book database & Lightning Source.
"Where does one begin? The whole of life is a great mystery. Where do we originate and what is our eventual destination? . To be snuffed out like a candle at the end of a busy life seems totally unreasonable and pointless. That is why I had to record the amazing things I witnessed during my journey here, so that others may have hope and strength to continue in their search for truth."
So begins HEAVEN CAN HELP, the true story of a sensitive Englishman who discovers he can speak with the dead. Through his conversations with departed loved ones and the sittings he has given to thousands of people over fifty years, Brian Edward Hurst has learned that life after death is for everyone and that no religious group holds the monopoly of Heaven.
As a small child, Hurst was inquisitive and curious, and seventy years of living has not changed that. From his travels in India to his work with the Parents of Murdered Children, he describes his attendance at rare physical phenomena sťances, his investigation of psychic surgery, and his hosting of the famous Scole Experimental Group from England. Hurst describes the astonishing phenomena that took place in the darkened garage of his Reseda home, where over 160 people attending eight sťances interacted with materialized forms and spirit lights that proved the reality of life beyond the grave.
An essential guide filled with real-life stories, 35 photos from Hurst's private collection, and a list of suggested readings, HEAVEN CAN HELP will educate, excite, amuse, and comfort those who seek deeper meaning and purpose to their earthly journey.
ABOUT THE AUTHOR
Brian Edward Hurst was born in Huntingdon, England in March, 1938. He attended Huntingdon Grammar School in Cambridgeshire. He won a scholarship to study† at the London Guildhall School of Music and Drama where he took part in various theatrical productions and worked as a film extra. Later, drawn to the Spiritualist Movement, Brian sat in a regular home circle for development of his own gifts.† He soon began serving churches in the London area and met many famous mediums and psychics. He was invited to sit in a number of rare physical phenomena seances where he witnessed close up the production of ectoplasm and spoke to various dead family members.
In 1974 he left England to teach in India for two years, beginning a new phase of his life and development. He lectured on English writers at the National Institute of Design in Ahmedabad and was written up in the Indian Sunday Standard for his work as a trance medium and spiritual teacher. Returning to England in 1976, he was put in charge of a Language Workshop for learning handicapped children at St. Neots, in Cambridgeshire. There he developed his own phonic system and taught many children to read.
In 1977 and 1978 Brian was able to witness amazing bare hand surgeries performed on several hundred people at the Huntingdon Spiritualist Church in Cambridgeshire. There he photographed David and Helen Elizalde from Australia removing cancerous tumors by separating the flesh of the patient and healing numerous ailments without the aid of any surgical equipment. Brian closely observed these "operations" and defended the Elizaldes on the front page of London's Psychic News after the healers had been cruelly attacked by ignorant members of the media.
Brian left the UK in 1980, graduated from California State College, San Bernardino and has worked as a bereavement counselor and medium in California for the past twenty-six years. He was the discoverer and early mentor of famous American medium James Van Praagh. Now in his seventieth year, Brian Edward Hurst continues to work with bereavement groups at his home in the San Fernando Valley. He has been the subject of a number of newspaper and magazine articles and has been documented in several books on psychic research. Brian Hurst is one of Margaret Wendt's favorite mediums.
His two publications are:
HEAVEN CAN HELP - The Autobiography of a Medium
1st Edition published by Authorhouse, 2001- ISBN: 0 75965 374 7
2nd fully revised edition with additional chapters republished by
iUniverse 2007 †††††ISBN: 978-0-595-45526-3† paperback $18.95 U.S.
ISBN: 978-0-595-69519-5† hardcover† $28.95 U.S.
SOME GO HAUNTING - An English Mystery Thriller
Published by Airleaf, 2004 - ISBN: 1 59453 306 7† $14.95 U.S.
His Website is at www.brianhurst.com
ATTENTION!
It has been brought to our attention that Margaret is being portrayed as a psychic on $1.99 sites. These sites are doing so without Margaret's permission. Margaret has not claimed she is a psychic. - MW